If you want to buy in bulk reset keys to reset many printers need reset waste ink counter, or buy reset keys to prevent the next time (after a while waste ink counter will overflow).
Buying reset key for WIC Reset (Reset waste ink counter of Epson and Canon printer) in bulk can help you save money. You can take advantage of our 10% discount (buy from 2 key or more -> discount 10%) to save your money and time.
How to buy reset key saves money with discount program
During a pandemic outbreak, cost optimization when shopping is essential. So please join me to find out how to save costs when buying reset key to reset the printer.
Please note: The reset key code is valid for many years until you use it, so you can rest assured that your reset keys will not expire when you need it.
Step to step to buy reset key with discount program – save 10% money
A little tip: After purchasing the reset key, before using the key, you can use the trial key here GET TRIAL KEY to reset your printer, you will save money, but if You have not used the trial key yet. I recommend that you save it when you need to reset but have not yet bought the reset key, you will use the trial key for temporary use.
Let's go into details of the steps:
Step 1: Visit buy page Click this link https://resetkey.net/buy to go to buy page
Step 2: Enter the quantity reset keys You will see the interface of purchase key reset page as shown below, enter the number of keys you want to buy in Quantity – You enter 2 or more keys to enjoy the 10% discount.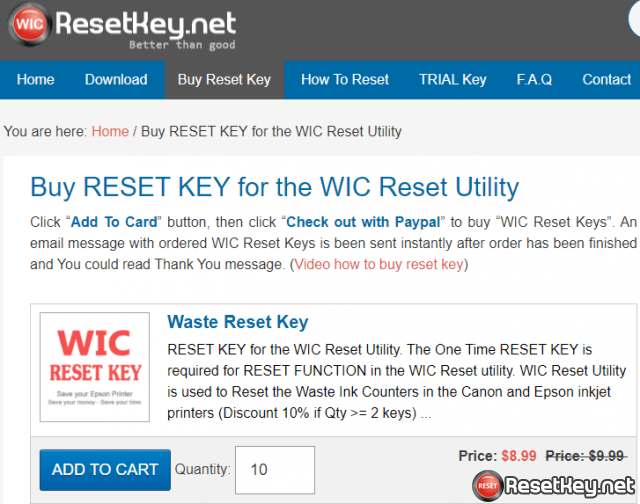 In the picture, for example you want to buy 10 reset keys, type 10 then click ADD TO CART button to go to next step.
Step 3: Check out with Paypal account or VISA, Master Card After pressing ADD TO CART you will be redirected to the checkout page, you will now see a discount message like this: Discount applied successfully! Total Discount: $ 8.99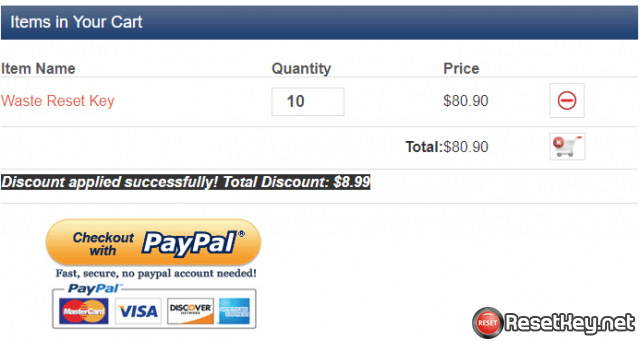 Normally you will have to pay $89.9 to buy 10 keys, now you only need to pay $80.9 => you save $8.99
If you want to change the number of products, simply replace the number 10 with the number of reset keys you want to set and press enter.
Now press "Checkout with Paypal" to pay and receive the reset keys. Congratulations on your time and cost savings.
You can see details of how to order and pay by Paypal or Visa, Master Card here