Click "Add To Card" button, then click "Check out with Paypal" to buy "WIC Reset Keys". An email message with ordered WIC Reset Keys is been sent instantly after order has been finished and You could read Thank You message. (Video how to buy reset key)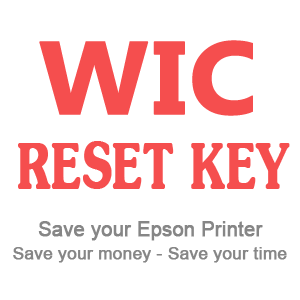 Waste Reset Key
RESET KEY for the WIC Reset Utility. The One Time RESET KEY is required for RESET FUNCTION in the WIC Reset utility. WIC Reset Utility is used to Reset the Waste Ink Counters in the Canon and Epson inkjet printers (Discount 10% if Qty >= 2 keys) ...
Please check Waster Ink Counter before Buy Reset key – How to check – Read reviews

Only use WIC Reset Utility to Reset Waste Ink Counters in the Epson and Canon printers (Supported Models List). Any problems, please contact us
You can Reset Your Printer by Yourself!
Buy Reset Key NOW and Save Your Printer
1. Check Waster Ink Counter overflow before Buy Reset key
+ Download WIC Reset Utility Tool – Download here
+ Connect your printer with computer by USB cable
+ Then run WIC Reset Utility tool and click "Read waste counters"
+ If Waste ink Counter >= 100% you should buy reset key and reset your printer waster ink counter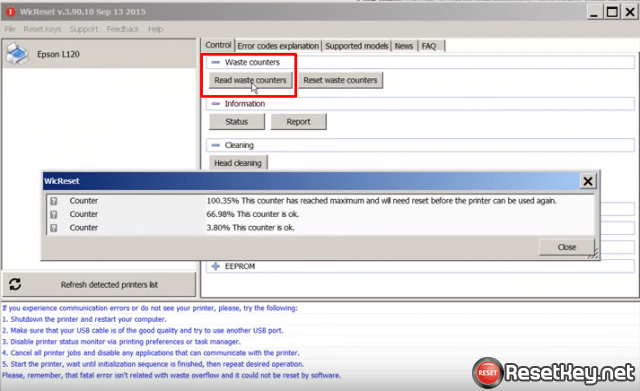 + If Waste Ink counter < 100% you don't need reset your printer with WIC Utility Tools

2. How to Buy WIC Reset Key
Only 5 Steps to get WIC Reset Key you want:
Step 1 – Put in the Shopping Cart Quantity of Waste Reset Key you need
Step 2 – Checkout your order and confirm you can pay by Credit Card, Visa or Paypal
Step 3 – Provide your payment details through SSL secure connection
Step 4 – A confirmation has been sent to the provided email address (or Paypal address). If you don't receive it in an hour, please contact us.
Step 5 – Finish the order and get your Waste Reset Key in email!
We have been in business since 2002 and have tried our best to give the customer perfect service.!
You can watch video how to buy WIC Reset Key
+ Video how to buy WIC Reset key by Paypal
+ Video how to buy WIC Reset Key by Visa, Credit Card
3. WIC Reset Utility Tool with Reset Key Can:
* WIC Reset Utility can Fix errors on Printer:
If the printer has LCD screen, the LCD screen will give an error: "The Printer's Ink Pads are at the end of Their service life. Please contact Epson Support". You can fix this error by using WICReset and Reset Key to Reset Waste Ink Counters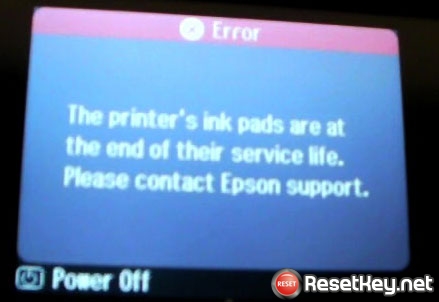 WIC Reset Utility can alternate red light blinking error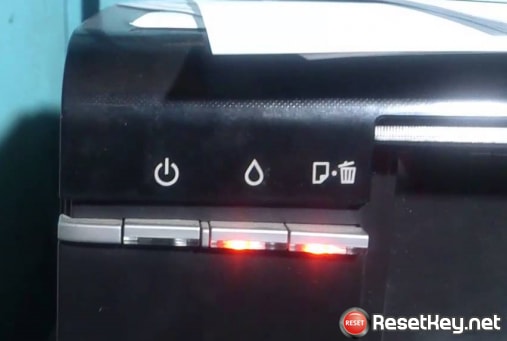 Fix errors on Computer by using Waste Ink Counter reset tools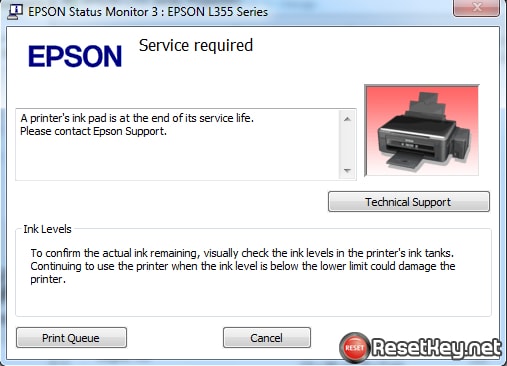 4. Why WIC reset Utlity can save your money?
Waste Ink Pads are a number of sponge pads inside your printer which are responsible for absorbing, collecting, accommodating unused ink during the printing and cleaning the printhead process. Once these Waste Ink Pads are overflowing, your printer will stop working automatically.
Epson has built a system inside their printer which will stop the operation when the printer has trouble. Normally, you need to take your printer to service centre to get them work again. However, this process is very inconvenient and you need spend about $40 – $60.
You can reset your waste ink counter by your own by using WicReset software. This software is easy to use with full instruction. Your problem will be solved and you can come back to business just with two clicks.
Although it requires you to purchase reset key for each time you reset your printer (Reset key is very cheap, cost only $8.99), it helps you avoid a lot troubles. Wic Reset is the one of the best solutions for overflow waste ink counter.
5. How To Reset Epson Printer with WIC Reset Utility
First: Download WIC Reset Utility Tools
– Download WIC Reset Utility for Windows
– Download WIC Reset Utility for MAC
Second: Watch this video to see how to reset
Reset Epson printer:
Reset Canon Printer:
6. Use Free TRIAL WIC Reset Key
If Your Epson printer has stopped because of Waste Ink Pad Counters overflowed.
If you wonder that wic reset key can help you or not, let's try to reset your printer with the free trial key
You can Reset waste ink counters by WIC utility FREE:
See how to use Free TRIAL Reset Key here
Then buy WIC Reset Key Full Version to reset your printer (Wicreset Trial Key only reset Waste Ink counter to 90% – So You can continue Your printing job in few seconds).
7. Testimonials:
Beside Service Centre, the WIC Reset is the only option to reset the new range of Epson printer until now. Let see how customer feel about The WIC Reset.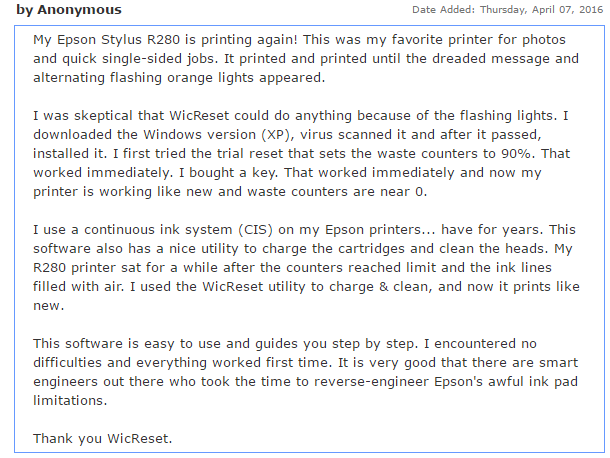 Thanks soooooo much !!!!! Thought my printer Epson PX730 was dead until i downloaded the reset utility and got my key.
Process over and printer working in minutes.
Saved the cost of a new printer!
Will recommend to anyone and use again if needed, as the service was 5 star plus.

Sara Koval, NY
Dear Manila, I would like to take this occassion to to say "Thank Very Much" for your reset product (WIC) on my epson SX235's. They worked perfectly and certainly did the job!
I will buy from you again in the near future and would like to confirm that I would have no hesitation to recomend you to anybody.
Keep up the good service.

Kindest regards, Dave Burrow

photographixdesign
I got the flashing lights and "Service required" message on my Epson R2400, as many others have before! I spent hours online and eventually managed to download Epsons' own Adjustment Program. It showed me the waste ink settings but would not let me reset the counter, although I had disconnected the feed tubes and re-routed them to an external bottle.
Today I found ResetKey.net and downloaded their WIC reset program. I thought "It probably won't work but one key is only $8.99 so what the heck!"
Well that was the best $8.99 I've ever spent! As soon as I entered the key and hit "reset" the printer whirred into action, ink pumped into my waste bottle and I'm back in action!
This has saved me a lot of money and the hassle of sending the printer to an Epson service centre. Truly a 5***** product!

Chris Porteous, Prestatyn, U.K.
Fantastic, WIC reset program does exactly as it says, brought my Artisan 810 back from the dead, will recommend to anyone. Thanks.

Paul Robinson, USA
My printer Epson PX700 stopped printing with the error as "General Error". Epson quoted me $60 to send an engineer to fix my printer.
After reading through the information on this site I decided to fix it myself. Found the problem was related to the waste ink pad counter.
Only 10 minutes, I had the the printer working! The printer tested fine and has done approx 150 pages since with NO issues.
Thanks for your WIC PROGRAM!

İSMAİL BAYRAKTAR, Turkey
Ace. I downloaded the programme which told me that one waste ink was at 65 % and the other was at 100% This told me that the programme was communicating with the printer (Another utility I tried would not even talk to the printer.) This gave me confidence to buy the key to activate the reset. It worked in seconds and my now perfectly functioning A3+ printer is no longer a pile of scrap. If only Epson UK were this good!!!
Neil Skidmore
Manila thank you, on my wife\'s birthday and she was like \"what? you are on your dead printer again, when am here and its my Birthday? \" Then the machine was resurrected WOW!! Thank you John, my wife will have more than me tonight! Spencer
Anonymous
…
Buy WIC Reset Key Now