The Epson L210 is an all-in-one inkjet printer that is known for its high-quality printing capabilities. However, like any other piece of technology, it may sometimes encounter errors. One such error that some users have reported is a red light blinking on the printer's control panel.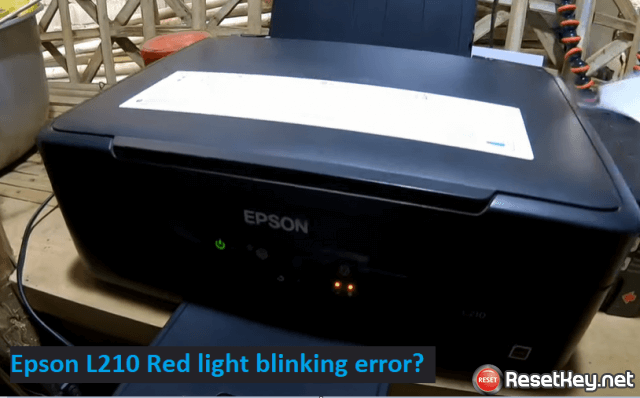 Errors related to Epson L210 printer status flashing red light
There are many causes of printer error, one of the common states is the red light of Epson L210 printer blinking. Here are some of the main reasons why this happens:
Epson L210 printer error paper jam
If the red light on your Epson L210 printer is blinking, it is likely that the printer is experiencing a paper jam. To fix this issue, you will need to clear the jam from the printer's paper tray.
Begin by unplugging the printer's power cord and disconnecting any USB cables that may be connected to the printer. Then, gently remove any paper that is stuck in the printer's paper tray or feeder. Be sure to check for any torn pieces of paper that may be lodged inside the printer.
Epson L210 printer empty or low ink levels
Another cause of this red light blinking may be an empty or low ink levels in one or more of the printer's cartridges, in this case you will need to check the ink levels and replace them if they are low or empty.
If the above steps do not resolve the issue, it may be necessary to perform a hard reset on the printer. To do this, unplug the printer from the power source and wait for at least 10 seconds before plugging it back in. This will reset the printer and hopefully clear the error.
It's also worth noting that, if the problem persists after trying all of the above steps, It may be a hardware error
Waste ink counter overflow error.
The waste ink counter overflow error on an Epson printer is a message indicating that the internal waste ink counter of the printer has reached its maximum capacity.
This error occurs when the printer has absorbed a significant amount of ink from print head cleaning, cartridge replacement, and other routine maintenance procedures.
In some Epson printers, the waste ink counter can be reset using WIC Reset Utility (Download here), but in most cases, the printer will need to be serviced to resolve the issue. This may involve replacing the waste ink pads or other internal components that have become saturated with waste ink.
You also can clean the waste ink pad by follow this guide: clean waste ink pad
If you are encountering a waste ink counter overflow error on your Epson L210 printer, it is recommended that you follow this guide to reset waste ink counter number.