Good news for those who don't want to buy reset key right away but want to try first to see if wic reset can fix your printer or not.
That is, you can now reset your printer waste ink counter to 80% for free (previously you could only reset it to 90%).
WIC Reset is specialized software to reset waste ink counter to 0% when it overflows, waste ink counter overlow error is an error when waste ink counter >=100%, the printer will stop working to prevent waste ink from overflowing other than damage the printer.
However, you can completely reset the waste ink counter to 0% or 80% and you can make the printer work again.
How to reset Epsosn Waste ink counter to 80% free
You should note that, when the waste ink pad overflows, the waste ink pad is also close to overflow, so you need to clean the waste ink pad or expand it after performing a printer reset.
Step to step to reset Epson printer's waste ink counter to 80%
Step 1:Download and install WIC Reset Utility – Download here
Step 2:Run program, connect printer and computer with an USB Cable, connect Computer to the internet then select Epson printer and click 'Read waste counters'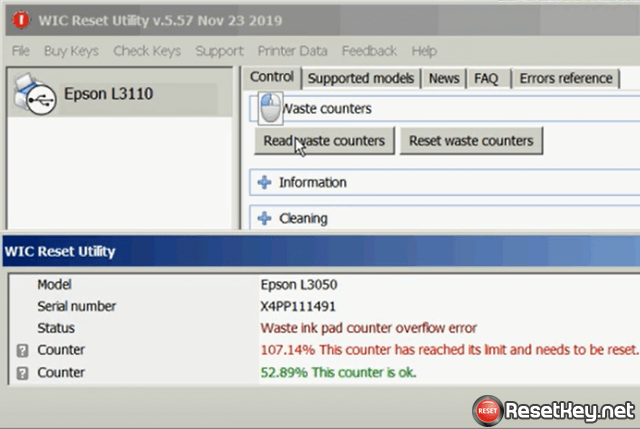 This step helps you double check to make sure that the printer has overflowed the waste ink counter.
As you can see, there is a counter that reaches 107.14%, which means it has overflowed, this is what causes your printer to stop working.
Step 3: Click "Reset waste counters" button to start reset your printer's waste ink counter.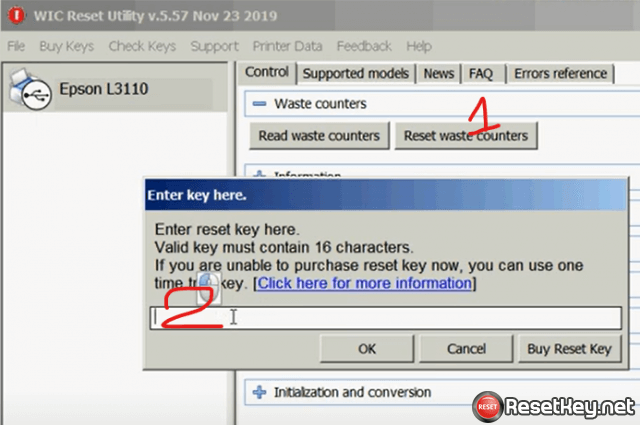 After "Enter key here" window appears, you enter key: trial then click "OK" and click "Yes"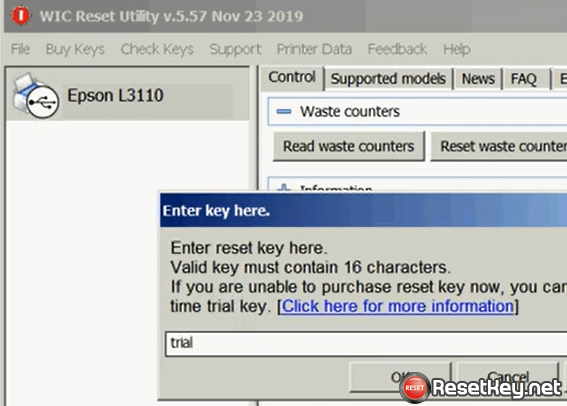 Step 4: Restart printer by turn printer OFF when this window appears then turn ON again (Using the printer power button)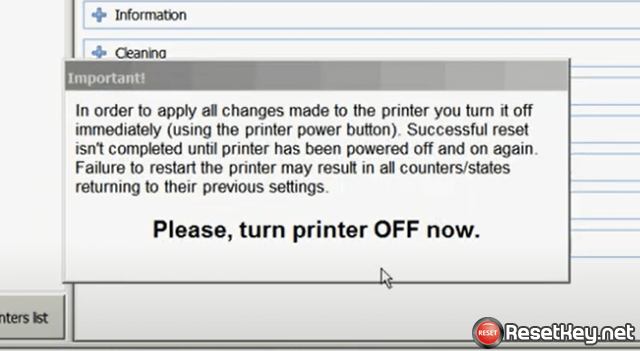 In order to apply all changes made to the printer y ou turn it off immediately. Successful reset isn't completed until printer has been powered off and on again. Failure to restart the printer may result in all counters/states returning to their previous settings.
If success, this message will appear:

Congratulations!