In this post, I will show you how to reset Epson L220 printer's Waste Ink Counter overflow with Epson L220 Resetter and free WIC Reset Key from ResetKey.net.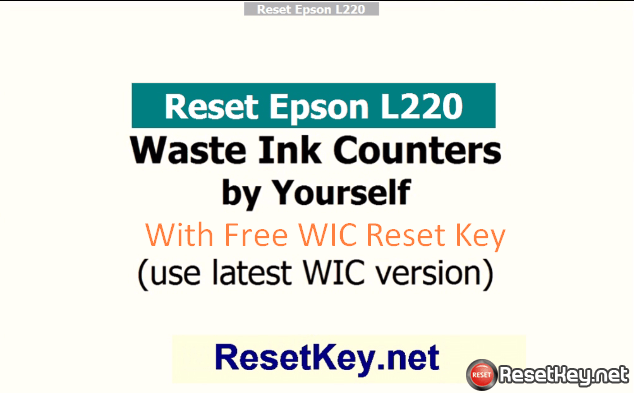 If you have an Epson L220 printer, but now it stopped working, and when you turn on the printer, it shows error: "The Printer's Ink Pads at the end of Their service life. Please contact Epson Support" and Epson L220 printer's red light blinking like this: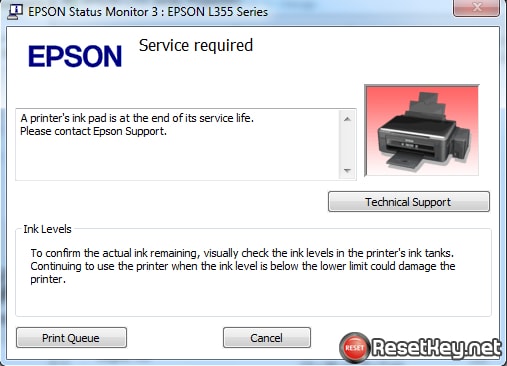 And printer's red light are flashing: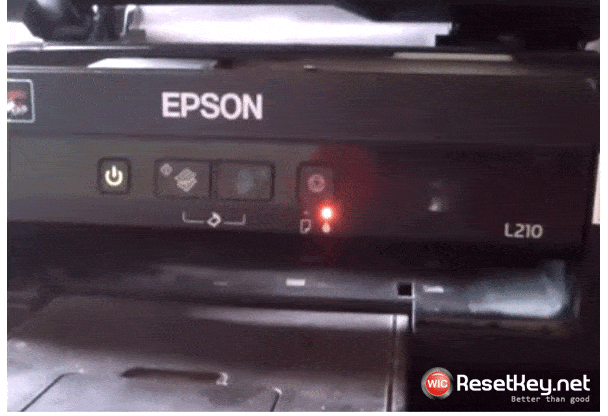 These are the manifestations of the ink waste ink counters overflow that is so common on the Epson L220 printer, you may want to learn more about this error:
+ How to know printer Waste Ink Counter Overflow?
Usually, you will have to bring your Epson L220 printer to a repair workshop, with a very high cost of $40 – $60, but you can completely fix this error in just a few minutes without spending a lot of time and money. We will guide you.
Instruction on how to Reset Epson L220 printer with Free WIC Reset Key
What is Free WIC Reset Key? This free reset key from Resetkey.net, We provide this key so that you can reset Epson L220 printer with Waste Ink Counter Overflow error immediately without having to buy a full license key and can continue printing the documents. Avoid work interruptions.
How to get FREE WIC Reset Key on ResetKey.net
Step 1: Visit here GET FREE WIC RESET KEY
Step 2: Unlock the box by click LIKE, Tweet or click +1 us to share on Google Plus

How to reset Epson L220 with Free WIC Reset Key
After you got Free WIC Reset Utility Key, you can follow this instruction to reset your Epson L220 printer.
Step 1: Download WIC Reset Utility (or Epson L220 resetter) first: Download here
Step 2: Check Waste Ink Counter before reset Epson L220 printer
+ Disable all USB connection, Cancel all print jobs, connect your computer to the Internet.
+ Connect your Epson L220 printer to Computer by USB Cable (Only USB Cable, WIC Reset Utility can not works with WIFI connection)
+ Run WIC Reset Utility Tool, Select your Epson L220 in the left sidebar, then click "Read Waste Counters" like this to read Epson L220 printer's waste ink counter: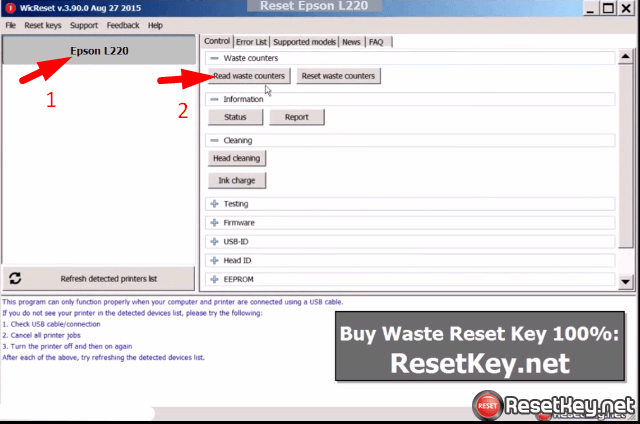 + If one of Counters larger than 100%, It was overflowing. You have to reset your Epson L220 printer, and it will work again
Step 3: Click "Reset Waste Counters" to start reset Epson L220 waste ink counter with free wic reset key: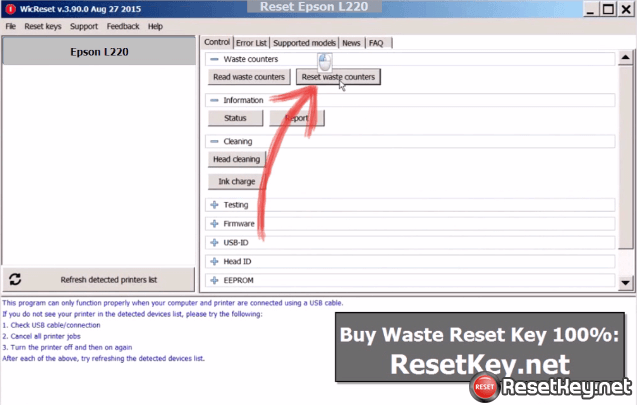 Step 4: Enter free reset key then click "OK"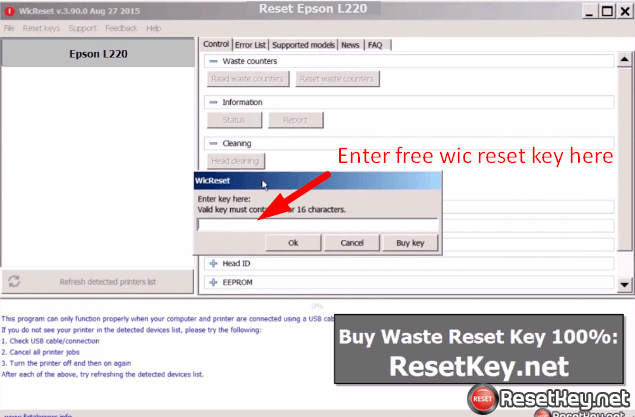 When you got the message "Epson L220 printer's free WIC reset key will set printer's counters just below maximum (about 90%), the free key can be used only once for each printer" click "Yes" to reset your Epson L220 printer waste ink counter.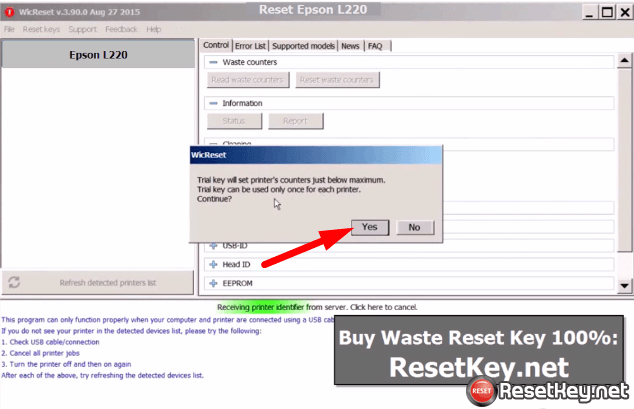 In order to apply all changes made to Epson L220 printer you turn it off immediately by using the printer power button. Successfull reset is not completed until Epson printer has been powered off and on again.
Please turn printer off and on when WIC Reset Tool says. Successful reset is completed when you got the message: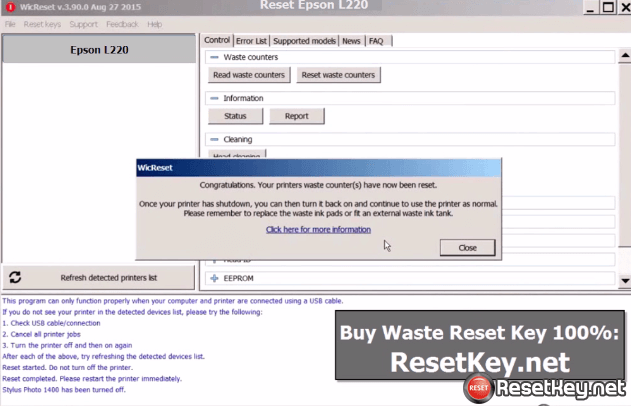 If you check waste ink counters again, you will see all counters are less than 100% now.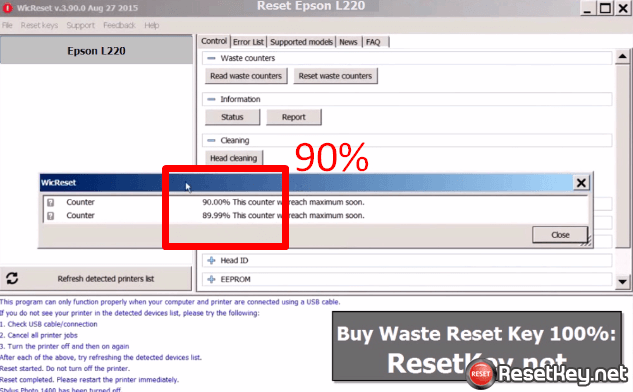 Recommend: The free Epson L220's WIC Reset Key only help you reset waste ink counters to 90%, and it will overflow soon, but you can continue your job immediately. After that, you should buy full WIC reset key and reset your L220 printer's waste ink counters to 0%.
Buy WIC Reset Key for Epson L220 here (Only $8.99, discount 10% when buying two keys)

You can watch video how to reset Epson L220 printer's Waste ink counter with free reset key here:
Thank you for your reading! Please share this post to your facebook, twitter if it helpful.