Canon brand of Japan is not strange to us, especially products specializing in technology.
This article is about a Canon printer that is a Canon PIXMA G3400 printer and how to download driver for this printer.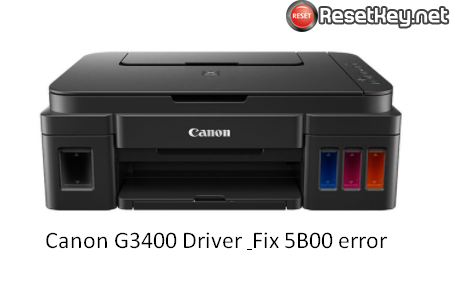 Firstly, please see some basic information about Canon PIXMA G3400 printer: This is a wireless connection printer that can print from a smart device via the Canon Print application, it is suitable for both households and small offices.
Download Driver Canon PIXMA G3400 printer, install Driver Canon PIXMA G3400 printer
The productivity of the machine is also quite high, so it ensures low printing cost, ink color prints are crisp and vivid, ink bottles is convenient to follow ink.
The printer must also have the appropriate driver to connect to the computer, so that the printing process or other operations of this printer can be performed.
Thanks to the driver, you can know the operating status of the printer and control errors or performance of the printer.
Please click the download link immediately below to download the Canon PIXMA G3400 driver and then follow the program's installation instructions.
We always guarantee Canon PIXMA G3400's services will not disappoint you
Please download Canon Pixma G3400 driver and resetter for Windows, Mac Here
Download Driver Canon G3400 for Windows:
Download Driver Canon G3400 for MacOS:
Download Driver Canon G3400 resetter to fix Canon 5B00 error – Waste ink counter overflow problem.
If the printer blink as: Orange light – 7 times. Alternatively Green (Power) and Orange, you can reset buy using this software:
How to reset Canon Pixma G3400 printer 5B00 error?
Please follow this video:
Please share this post to your social!