Congratulations!
Thank you your purchase! Please check your Paypal email (or contact email) to get "Waste Reset Key"
You will receive an email shortly which will contain the details of this transaction like this:
Alert: If You Paid for WICReset Key but not received yet? Please read this article or contact manilacare@gmail.com or resetkey.net@gmail.com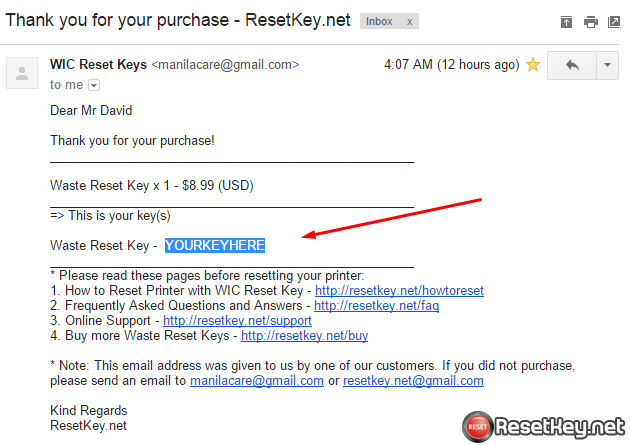 Get your reset key in email and reset your printer
Please following instruction to reset your printer
* Download latest WIC Reset Utility Tool
* How to Reset Printer with WIC Reset Utility and Reset key
Warning: Ideally, you should reset the waste ink counter by using Wic Reset Tool when you clean or replace the waste pad. Try to clean or replace the waste ink pad as soon as possible to avoid overflow of ink and any possible damage to your printer.
* How to deal with Epson Waste Ink Pad Overflow problem
* If you have ANY questions about the operation of our online shop, please first see the F.A.Q. or send the request to our customer care.
* RECOMMEND: How to avoid Waste Ink Counter Overflow
We appreciate your business and feedback.
Give Us Feedback
Don't forget Follow us on your favorite social network







Thank you!