Epson Stylus Photo R200/R210 Factory service manuals (FSM) are the manuals provided by manufacturers which cover the servicing, maintenance and repair of their products.
About Epson Stylus Photo R200/R210 Service Manual
This manual describes basic functions, theory of electrical and mechanical operations, maintenance and repair procedures of the printer. The instructions and
procedures included herein are intended for the experienced repair technicians, and attention should be given to the precautions on the preceding page.
Table of contents
This manual consists of six chapters and Appendix.
CHAPTER 1. TROUBLESHOOTING
Describes the step-by-step procedures for the troubleshooting.
CHAPTER 2. DISASSEMBLY / ASSEMBLY
Describes the step-by-step procedures for disassembling and
assembling the product.
CHAPTER 3. ADJUSTMENT
Provides Epson-approved methods for adjustment.
CHAPTER 4. MAINTENANCE
Provides preventive maintenance procedures and the lists of
Epson-approved lubricants and adhesives required for
servicing the product.
APPENDIX Provides the following additional information for
reference:
• Electrical circuit boards schematic.
Below is a detailed table of contents of this service manual.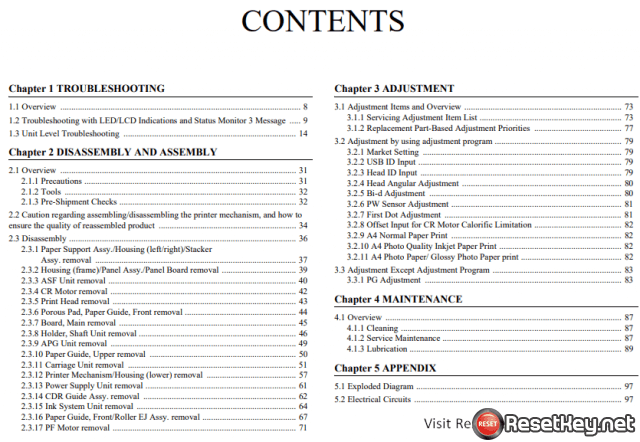 To reset Epson R200 waste ink counter number please follow this guide
Download Epson Stylus Photo R200/R210 Service Manual
File name: Resetkey-net-Epson-R200-Service-Manual.pdf
File type: .PDF
Compressed file type: .zip
File size: 3.01 MB
Number of pages: 101 pages
Please download Epson Stylus Photo R200/R210 service manuals here.
How to read this file?
Request unzipping the .zip file first.
To read PDF files you can use Google Chrome, Firefox to open them, or use the professional PDF reader: Adobe Acrobat Reader, foxit reader.