Hello, we meet again and my article today is how to download and install the Epson L805 driver for the printer and resetter software to reset the waste ink counter, to fix the red light blinking error due to the overflow of waste toner counter.
Download driver Epson L805, install Epson L805 printer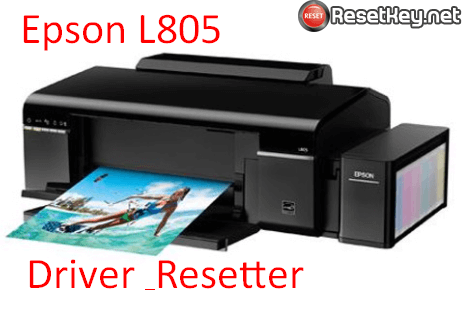 Oh, this is an Epson printer race again, let's learn briefly about this printer race: The Epson L805 printer works the same as the printer with a continuous ink system.
It has smart and convenient design as other designs of Epson. The highlight here is that the speed and number of printed pages are higher and the quality is still sharp, and also able to print on the disc.
What a lot of features are! So when we ought to download and install the Epson L805 driver to use.
As mentioned in my previous articles about driver features and when drivers should be installed.
We need to install Epson L805 driver for printer when the printer has an error and cannot print, or cannot connect to the computer to perform printing process.
However, you need to consider the computer that you are using to install the appropriate driver, depending on each computer model, there are different drivers designed to suit them, make sure that you load correct driver for the device, you can download the Epson L805 driver here:
Download Epson L805 driver & resetter for Windows and Mac OSX
Use one of the download links below to download Epson L805 printer driver or Epson L805 resetter software compatible with your OS version.
Download Epson L805 driver for Windows or Mac OS
For 64 bit
For MAC OS
Download Epson L805 resetter
Widely used to let users repair their own Epson L805 printer when the printer overflows the waste ink counter, helping you keep working without having to bring the printer to a repair center.
If the download link is broken, please Contact us and let us know