EPSON 1400 INK AND PAPER LIGHTS FLASHING ERROR
Epson 1400 printer is used quite popular but it has an error after a period of usage called Epson 1400 Ink and Paper Lights Flashing.
The sign of this problem is the second red light is continuously blinking on the paper and ink lights. As the results of this, we aren't use the printer to print at all.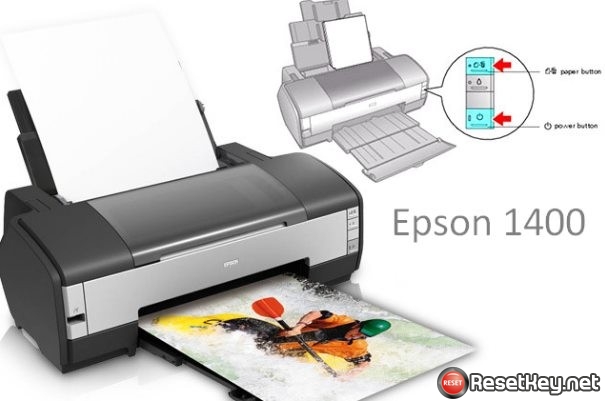 Epson 1400 Ink and Paper Lights Flashing Error
Furthermore, when we put the Start button but Epson Photo 1400 can't run. And we sometimes turn the printer on and realize that the second red light is blinking on the icon of ink paper. Those are all signs of Epson 1400 printer's error.
This error is also depended on the Windows of your computer. The printers are sometimes unsuitable to the Windows on the computer, so it's Service Required Error.
In addition, the reason of this Epson 1400 error is full ink waste in the in bottom of the printer.
The solution we can do is removing the ink disposal placed the bottom of the printer. Then you can replace it by a new one. Or the Resetter is the second solution for you, this Resetter is provided specifically for Windows printers. You can download it here: Epson 1400 resetter and learn how to reset here: https://resetkey.net/resetting-epson-1400-printer-waste-ink-pads-counter.html
The best way to fix this problem is to take a large bottle, a cutoff valve and vinyl tubing in place of the (now full) internal waste ink pad. Taking it apart is difficult and messy, and isn't worth the effort. The other problem is the counter still needs to be reset. While Epson has a tool for *most* older printers, some of the new models don't have an official tool, which can be found here. For printers without an official reset from Epson (or in some cases, reset more then once), you will need to use WIC Reset Tool (Reset Epson 1400)
Good luck!