Hi there, Today is a beautiful day!
We have received some fantastic feedback from one of our clients about the service they have received from ResetKey.net.
We would like to share the great feedback we have received with you; and we would also like to thank Rajendra Bagari for his exceptional service and continuous hard work.
This is the feedback about ResetKey.net's service:
I got the flashing lights and "Service required" message on my Epson R2400,
as many others have before! I spent hours online and eventually
managed to download Epsons' own Adjustment Program. It showed me the
waste ink settings but would not let me reset the counter, although I
had disconnected the feed tubes and re-routed them to an external
bottle.
Today I found ResetKey.net and downloaded their WIC reset program. I
thought "It probably won't work but one key is only $8.99 so what the heck!"
Well that was the best $8.99 I've ever spent! As soon as I entered the
key and hit "reset" the printer whirred into action, ink pumped into
my waste bottle and I'm back in action!
This has saved me a lot of money and the hassle of sending the printer
to an Epson service centre. Truly a 5***** product!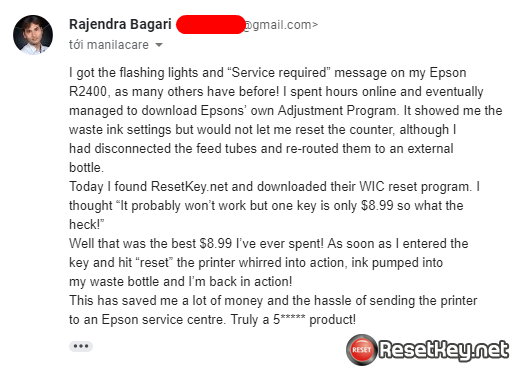 End feedback:
We are always more than happy to help our customers.
Kind regards,
Manila, ResetKey.net